There is no doubt that Google is the world's largest search engine. However, few people know that YouTube (a video platform) is the world's second-largest search engine after Google. YouTube is owned by Google, and the two platforms interact through the Google search engine. It's a great thing because when you create a video to promote your business or brand, you can upload it on your website and your YouTube channel. By doing so, your videos not only rank high on Youtube but also on Google when someone searches for a related topic.
People use videos to market their businesses for a variety of reasons. In this article, we are going to highlight those reasons. Let's start without any further delay. 
Audience Prefer Video Content over Written Information
Visuals are more engaging than written content, so they tend to attract most people. More people love to watch a video rather than read. Even a lazy person can watch a video to get some information.  
Videos allow you to interact with your audience visually and acoustically without forcing them to scroll through pages of text to find the information they are seeking.
Utilizing content this way makes more sense and is more enjoyable. It is one of the significant reasons why people want to use videos to promote their business.
Videos Contribute to Building Trust
To increase your sales or market your business effectively, you need to build trust with your customers. People are scared of being scammed or the victim of fraudulent activity. Defining your product or brand with videos appeals to their emotions as well as builds trust. A video helps to reduce their fears and convinces them to take action.
Apart from evoking people's emotions, videos can also boost confidence and sales. 
Video-Sharing and Social Networking Go Together
We can see videos everywhere because it is one of the best things to connect with others. There are dozens of videos floating around on Facebook or Instagram as we scroll through. We also spend a lot of time watching videos if we look at ourselves because it tickles our senses. Most people enjoy watching videos that provide entertainment or information. If your videos contain these kinds of content, there are more chances for people to like, view, and share them. It takes only a few seconds to share with others on different platforms. Video can reach a larger audience in less time this way. Therefore, viewers increase, and you can effectively promote your business. 
Videos Attract More Mobile Visitors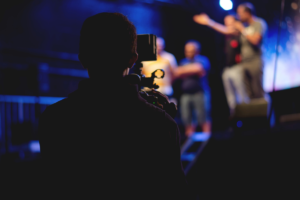 When mobile users utilize numerous hours watching their screens, videos are the most popular type of content, they would love to watch. Video is a tremendous market for mobile internet surfers, whether it is YouTube, TikTok, or anything in between.
According to reports, 90% of mobile phone users watch videos. It is a massive market that you cannot afford to overlook. YouTube reports video consumption has increased by at least 100% each year.
It is one of the main reasons why people use video to promote their brands. 
Videos Make It Easier to Describe Things
Videos are more effective than text in explaining things. Furthermore, visuals help in conveying your message more efficiently in a video. In addition to supporting you in delivering your message, the video also makes it easier for people to understand it more clearly. It is beneficial to everyone. That is why videos have become a significant part of advertising for many businesses and organizations.  
Videos Boost Sales and Conversions
If you include video in your content marketing mix, your business can generate fair revenue even if you monetize through just ads, never mind sales and conversions.
In some cases, even just attaching a video to your website can boost conversions by up to 80%.
In general, explainer videos that show how a product works, such as product reviews, are much more likely to contribute to sales than text that demonstrates the same product.
In order to promote a product, you should develop a webpage that features the product, create a YouTube video for the product, and insert that YouTube video into the webpage also.
Short Video Adds Can Quickly Earn New Customers
People often introduce their brand to the market by placing a short video advertisement before or during a Youtube video. You would be able to remove this ad at least after 5 seconds. This will allow you to earn more customers during these 5 seconds.
Although this is not a cost-free method for marketing your brand, it is an efficient and effective way to tap into video's tremendous popularity.