We use landscape designing software to design outdoor scenes. Studio holders, architects, and students who strive to achieve academic goals use these tools. Some of these are not specifically made for the landscape industry but a lot of architecture professionals know them and use them. Below we have listed the three best landscape design software that every designer should know about. 
AutoCAD by Autodesk
AutoCAD is the most widely used program within the construction industry. Landscape architects use it for a variety of firms. It may take some time to be proficient at using Autocad. The skills you learn will not only help you in landscape and architecture but will come in handy if you ever transition to a different industry.
Advantages
It can do both 2-dimensional and 3-dimensional work. 

There is a wide range of file formats available for drawing import and export, so it is easy to use other software programs.

It offers a command line, which allows you to do most of your drawing using the keyboard alone with minimal mouse usage. Hence, if you are familiar with shortcuts like that in other programs, you may find AutoCAD very convenient.

To test it out, there are free trials and a student version that you can download. 
Disadvantages
The license and download costs are very high. If you work for yourself and you don't need lots of bells and whistles or 3D modeling, it might not be for you. 

The plant library is not specific to landscape design and landscape architecture. To transmit them into AutoCAD for yourself, you must build up your own database of plants, symbols, and blocks. 

Learner's block is very common for new professionals. Unlike intuitive software, it is strongly keyboard-centric and command-driven.
SketchUp 
SketchUp is a three-dimensional modeling system. It makes concept sketches almost effortless, and its intuitive interface makes it easy to work with. 
Advantages
The software is free, so you do not need to pay for it. 

It offers a variety of plugins so you can render in and have the SketchUp material library. Or you can bring it into some other three-dimensional software and get really good photorealistic results.

Unlike AutoCAD, it is very easy to learn and does not need a lot of training. With only a couple of days, you can master SketchUp and start animating things and creating material textures.
Disadvantages
A drawback of SketchUp is that to use some of the key rendering techniques to make more professional landscape images, you'll have to sign up for the paid version. 

The free version does not provide the same level of fidelity as Autocad. Also, with it, you can't have dimensionality and software compatibility. 

Its biggest limitation is its lackluster landscape library and plant library, much more so than Autocad. There are not many plant blocks or groups you can use as three-dimensional models. But if you want something you pretty much have to make it yourself.

Additionally, if you opt for the pro version and you like SketchUp, you will need a laptop capable of rendering those types of three-dimensional models quite well. You'll need something with high ram and good graphics cards in order to do that efficiently. 
PRO Landscape Software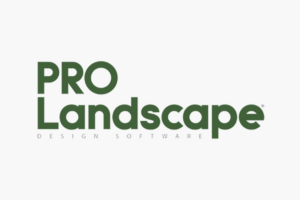 PRO Landscape software is specifically made for landscaping.  This program will not be able to offer many of the functionality of Autocad for transferring plans to architects or engineers. For example, it does not do topography and such, but if you want to design a typical residence or a small site in a public or private space, you can do it very quickly with great detail. 
Advantages
Within pro landscape software there are also four to five sub-programs. The most common pro landscape software used to create plans is pro landscape planner. You have pro landscape image editor, pro landscape proposal, pro landscape 3d, which fabulously communicate with each other. 

It has a dedicated plant library for you to use. This library is pretty extensive. you can add it yourself so you can increase the plant library if you want it. And it is very similar to Autocad but made for landscape professionals. 

It is very affordable, A lot of the pro landscape functionality is there for you but at a much more affordable price. 

On-site consultation is available. 
Disadvantages
There is one big disadvantage in that it doesn't have the same functionality as Autocad, but for what it does, it's an advantage that's worth exploring.

Although it offers sub-software, none of them are as good as AutoCAD.

You do give up some rendering capabilities, you don't get the same amount of or quality of the image, but if you're primarily a residential garden designer, this software is a good place to start.