Integrating software technology in the construction business is a worthy investment. Whether you take on full construction projects or specialize in a specific part of it like plumbing or laying the floors, the software can help in ensuring your projects are a success.
The design software makes sure that you can show the customers how their building will look when finished and make any changes that they may need before starting the construction. The management software is effective in improving communication and costs of the projects.
Best Construction Softwares
There are different types of software available for the construction industry and they have varying advantages to offer. To compete with the industry leaders and become a reliable name it is essential to make the best use of what construction software has to offer.
Finding the software that caters to all of the needs of your construction company is the first and vital step.
Assemble
It is model data management software and it is cloud-based. It is a perfect choice for home builders, general contractors, construction managers, engineers, subcontractors, and estimators.
The software allows the users to create models by extracting building information modeling data. All the stakeholders and team members have access to the data and the models. Users get to create a full data inventory of the models and use available tools.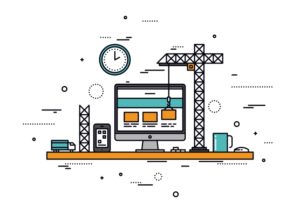 OnScale Solve
OnScale is excellent cloud engineering simulation software. The powerful software is built by engineers and is perfectly capable of catering to all their needs and ensuring the success of the construction projects.
It can easily integrate into any workflow design. It provides engineers with simulation capabilities required to synthetically generate data. You can also join the community of OneScale and share your knowledge with other people in the construction business.
PlanGrid
The construction software is designed for managing the drawings, blueprints, and other documents involved in a construction project. It takes care of a lot of things for the constructors, making their job easier. PlanGrid can automatically render documents and organize them. It is perfect for handling all the paperwork of construction projects.
PlanGrid also offers a BIM modeling which makes it a perfect choice for construction managers who are interested in managing blueprints and drawings. The software allows you to share valuable data and information with other relevant people.
AutoCAD
The software creates creating 2D and 3D designs. It is an excellent drafting platform for construction professionals, contractors, engineers, architects, and field technicians. It also offers flexibility as native iOS and Android apps of the software are also available.
Users get to use toolsets to create drawings, models, schedules, etc. The tools are helpful in creating models of all sorts of surfaces, solids, and mesh objects. New features are continuously added to the software to improve the user experience. AutoCAD is a versatile software that allows users to create a default environment for projects.
Procore
It is a great solution for people looking to manage their resources, financials, and projects. It has a centralized dashboard that makes it easier for managers to keep track of all the aspects of a project. You can use it to schedule tasks, view progress, and handle details of the project.
The Procore app has an app marketplace and has more than 150 market partner solutions that are a part of the platform.
Procore ensures that users enjoy efficient communication across disparate teams and get rid of silos and create a single source for information. It eliminates the possibility of miscommunication during expensive construction projects. All the project-related information is accessible by all the team members.
CoConstruct
It is project management software for construction projects. Remodelers and custom home builders can invest in the software and use the interesting tools it has to offer. It has excellent tools for managing financials, clients, and projects.
Users can use the platform to sync data from specifications, estimates, budgets, buds, orders, etc. Constructors can use the platform to manage communication, client meetings, and job logs and coordinate the to-do list of the team members.
Conclusion
Construction management and design software are worth investing in because they play a critical role in automating the essential processes of construction projects. They make it easier to manage construction projects and minimize the possibility of delays and errors. The tools are helpful in modernizing the construction business and operating efficiently.
Integrating construction management and design software in your business will give you a competitive edge and provide the helping hand require to cement your position in the industry.